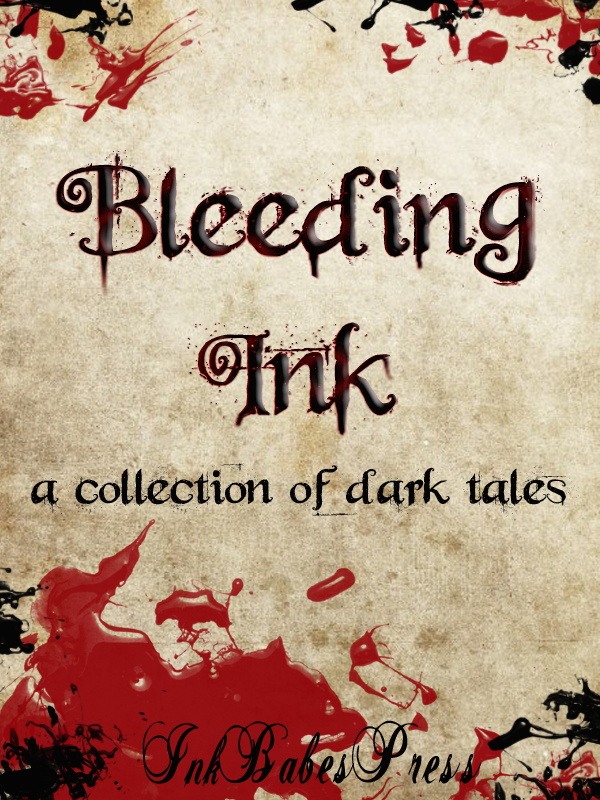 I recently posted how I've had a short story published in the Bleeding Ink anthology and I had a number of people ask me just what this anthology is. The Babes of Ink are going through the various authors in this anthology for a spotlight interview and I thought it was only right they got the same attention. This project is beautifully put together and filled with takes of the darkest twistiest kind. From here, I will let them take over to tell you a little bit about it:
**
1)      Who are the Ink Babes?
We're three women, Patricia Hollett, Tammy Crosby, and Lisa Forget, all writers who met at Kelley Armstrong's online writing group. We became good friends from the time we first exchanged words and critiques. We bleed ink…every day.
2)      What is the Bleeding Ink Anthology?
An anthology compiled by writers as a platform for other writers to share their unique works with readers everywhere.
Collectively it is an assortment of dark, twisted creepy tales in varying styles of writing. From shorts to poetry, our authors brought their very best.
3)      What gave you the idea for the anthology?
Having met so many wonderful writers in our Online Writing Group (OWG) and elsewhere in cyberspace, we realized many unique voices needed to be heard and stories to be told.  The anthology provided an avenue to bring together wonderful writers, great stories, and package it into something dark and delicious.
4)      What is the significance of the title?
The Ink Babes believe to write is an emotional experience (as we're sure every other writer feels the same way). It's an expression that allows our creative energy to flow from our writer's souls and into our pens, coloring every word, phrase and passage. For us, it's an analogy, meaning we pour so much into our story telling that we're literally bleeding ink. Our love for dark fiction was one of the elements that brought the three of us together, making this collection of dark tales, an obvious theme choice.
5)      The dark theme of the anthology seems at such odds with the humour you ladies clearly share. How do you balance the two?
Humour is what got us through all the stages of the creative process of Bleeding Ink. It helped us see past the difficulties we faced walking along the new and sometimes nerve-wracking territory of publishing, editing, selecting, etc.
6)      The feedback I've read/heard so far about the anthology has been very positive. How does it feel, being behind something that's so much fun and also such good quality?
It's really quite an honour. Our goal was to create something for everyone, something our authors would be proud to be a part of, something we'd be proud to represent and we truly hope and believe we accomplished that. We also tried to involve all the contributors and keep them informed as we progressed through the stages of compiling and publishing because we wanted them to share in the process with us.
7)      I read in a recent blog post of yours that you read over 200 submissions for the anthology. That's amazing! Had you expected so many? What was the process for accepting?
I don't think we dove in with any preconceived expectations regarding the amount of submissions we'd get. Pat worked very hard at having Ralan and Duotrope add us to their lists, seeing as we were a brand-new, inexperienced E-Publishing venture. It paid off, big time.
With regard to the selection process, all three of us read the submissions, graded them, had many discussions, and made the decisions based on the outcome of these conversations. Our primary goal was to choose well-written and engaging tales that best suited our theme.
8)      I'm sure many people want to know the answer to this one: Now that you have one anthology under your belt, would you take on this kind of project again?
We would definitely consider it. (Tammy, stop covering your ears!)(Pat, stop laughing at Tammy!)
9)      If not (and even if you do) what other projects are you looking at now?
As publishers, we're looking into the marketing issue – getting Bleeding Ink out there to the masses. We're only three people, so the hard part is spreading the word so that will people realise how much bang you get for your bloody buck in this anthology. We're also exploring all aspects of having the anthology printed, possibly as a special collector's edition. Other projects might spring up as we investigate the market.
Writing-wise, we're taking time to work on our own manuscripts. This is something we're all very keen to spend some well-earned time on.
10)   Finally, where can people find the anthology? And where can they find you?
Bleeding Ink – A Collection of Dark Tales is available at www.smashwords.com
The Ink Babes can be found at www.bleedinginkanthology.wordpress.com
Follow us on Twitter:  @inkbabes
We welcome feedback of all nature so please readers; feel free to let us know your thoughts! 🙂
Ever yours,
The Ink Babes